The star village
In south of Rajasthan, the largest state in India, sits Piplantri – a tiny village of an approximate size of 2.3 sq km is home to around 500 people and over 300,000 trees (and counting).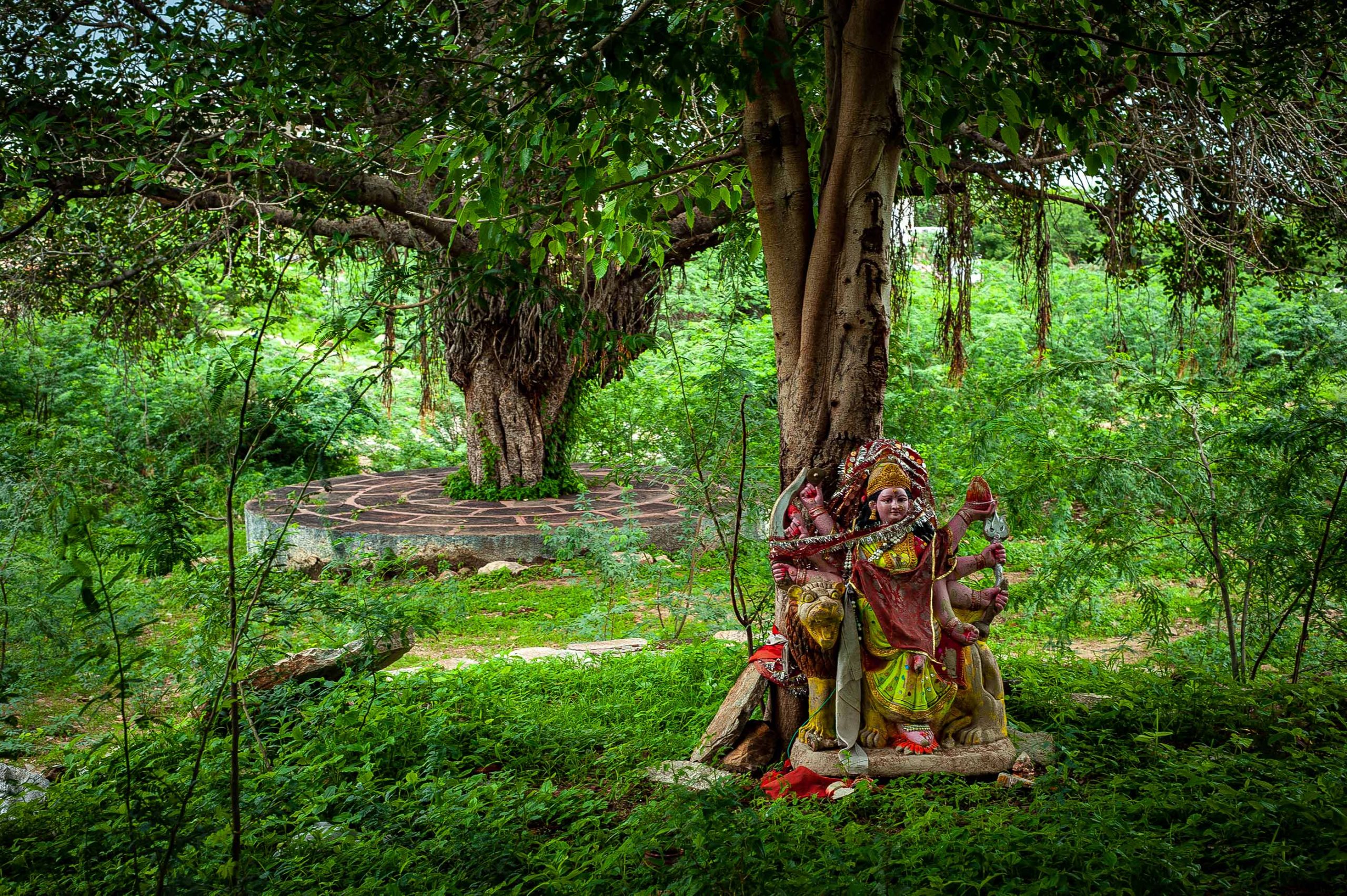 COMPLETE ECOLOGICAL RESTORATION
Due to the pollution and damages caused by industrialization, Piplantri lost its natural sources of vitality and provision for the people living there. Thousands of trees and forest environment were removed which led to a drastic impact on the local flora and fauna. The village's water supply dwindled as no trees were present to raise the water basin. Village residents were forced to suffer long walks to not-so-nearby lakes to source not-so-clean water to use in their households. The village also lost their much needed shade that was provided from the forest canopy from summer temperatures can reach up to 50o C.
A major driver in restoring Piplantri to its natural harmony was its ex-sarpanch Shyam Sunder Paliwal. Paliwal losing his daughter to dehydration was the catalyst needed to make change to his village. Another problem Rajasthani villages faced was female infanticide. In order to solve these two major problems, Shyam Sunder Paliwal came up with an idea to plant 111 trees every time a female is born or passes away. This idea led to the plantation of more than 300,000 trees within a few years which ultimately restored the locals' clean air, water, and nature. 
Earth Day Network India recognized Piplantri as the first 'Earth Day Network Star Village' on 22nd October 2020. You can read more about this here.
everyday is earth day
" There are no passengers on spaceship Earth, we are all crew. "
— Herbert Marshall McLuhan, Canadian Communications Theorist
On April 22 2021, It will be the 51st anniversary of Earth Day initiative. This initiative provides climate and environmental literacy, conducts challenges and promotes bold and creative innovations for solving global issues making earth a much better place to live.
Well, I strongly believe instead of focusing on one initiative and just one day dedicated towards our home, we should all come up with our own initiatives to work, learn, live and promote an Eco-friendly lifestyle, because everyday is Earth day.
interesting earth day projects & initiatives
someone say cleanup?
Initiative for performing public cleanups of waste and plastics littering our environment. Anyone can register a cleanup. Anyone can join a cleanup. You can also provide data about your local environment for a extensive scientific research.
Foodprints for future!
This is a campaign that allows us to measure the environmental impacts associated with growing, producing, transporting and storing of our food – from the natural resources consumed to the pollution produced to the greenhouse gases emitted.
THE clock is ticking…..And its ticking fast
(If you cannot view a clock here, then use this link)
Mercator Research Institute on Global Commons and Climate Change (or simply MCC) are a think tank (that's what they call themselves). Their primary goal is to deal with the climate crisis we are facing today.
MCC has developed a "Carbon Clock". This clock shows us how much carbon can be released in our atmosphere in order to maintain the limits to 1.5o C and 2o C above pre industrial levels.
According to the Intergovernmental Panel on Climate Change's (IPCC) Special Report (see here), on the 1.5 degree target, the atmosphere can absorb, calculated from end-2017, no more than 420 gigatonnes (Gt) of CO2 if we are to stay below the 1.5°C threshold. Annual emissions of CO2 – from burning fossil fuels, industrial processes and land-use change – are estimated to be around 42 Gt per year, the equivalent of 1,332 tonnes per second. With emissions at a constant level, the budget would be expected to be used up in less than seven years from now. The budget for staying below the 2°C threshold, for its part, of approximately 1,170 Gt, would be exhausted in about 25 years.
Lets see some innovative carbon Controlling mechanisms
Faradaic Electo-Swing reactive absorption
This entire setup in a sense works as a large battery. However in this battery the electrodes are coated with compound called polyanthraquinone, which is composited with carbon nanotubes. The electrodes have a natural affinity for carbon dioxide and readily react with its molecules in the airstream or feed gas, even when it is present at very low concentrations. The opposite happens when the battery is discharged. This simultaneous charge and discharge creates the electro-swing and faradaic currents are used to charge and discharge the electrode.
Following video explains the entire process visually
AI: Prescriptive Analytics helping in reducing Carbon Emissions
AI learns by experiencing a continuous flow of data through its complex mathematical functions. The more data given to it the more smarter it gets. A structured procedure prescribed for businesses when using AI to maintain their carbon emissions is a 3-way approach. This includes,
Emissions monitoring
Emissions predictions
Emission reduction
In short, AI can help large companies reduce their environmental impact while also alleviating the financial pressure they face as they emerge from the COVID-19 crisis.
According to BCG, AI alone can provide reductions of around 5% to 10% out of the total GHG emissions.
Blockchain-based carbon credit ecosystem
Kyoto protocol regards the market mechanism as a way to solve the greenhouse gas emission reduction problem. In this view, carbon dioxide emission is considered a commodity, forming a carbon trading system.
According to the United Nations, carbon offsetting is particularly crucial for meeting the Paris Climate Agreement's goal. There have been efforts to mitigate this problem using a carbon tax or credit.
Carbon offsetting allows companies and individuals to reduce carbon emissions by purchasing carbon credits from carbon reduction projects. These projects include planting new trees, avoiding deforestation, investment in renewable energy, carbon capture, and sequestration projects. The voluntary carbon market co-exists with the compliance carbon markets,driven by regulatory caps on greenhouse gas emissions,and operates at a significantly larger scale.
Blockchain provides a trust less, safe and reliable, efficient and convenient, open,and inclusive platform that is uniquely suited for implementing Carbon Credit Markets. Blockchain can be then used for issuance and tracking of this carbon credits. Since this is a publicly available technology, data provided by the carbon emitting companies will be transparent and accessible to everyone.
If this sounds interesting, do checkout this paper.
conclusion
Being environment friendly is becoming more and more important. Even though there are various research and innovative solutions being developed using cutting edge technologies and and these technologies are being adopted at a major scale to introduce circular resource management techniques and environment friendly solutions, we have geared ourselves towards a better and a healthy planet, the only question is by when will we be able to achieve this?
I believe every little helps and at some extent we all should an eco-friendly lifestyle. The best way to do this is to have an intent. An intent to not harm the environment around us when we are interacting with it in any sense. Its not just only consuming your household electricity or recycling responsibly but educating ourselves in climate awareness and environment literacy, participating in cleanup drives (of course this isn't possible right now due to the pandemic, but we can provide environment data to earthday.org), supporting local produce and farmers reducing food miles drastically and many more.
If you liked what you read don't forget drop a message and I will get back to you asap.
Stay green. Stay healthy.